FREE
Next working day delivery on orders over £49.95
*
Delivery Information
FREE next working day delivery
on
Bona Mega Silk Matt 5l
details
Orders placed before 2pm today are estimated to be delivered on Friday 30th June
Coverage
8-10 M² per litre
Good and quick service
bernard bessant
20/06/2017
Fantastic service as usual.Thankyou!
Clive Dicker
13/06/2017
Super service easy and painless
Peter Gammage
06/06/2017
Excellent service, clear website and very rapid delivery.
John Elliott
06/06/2017
Excellent service, when I asked for an eta they kept me informed. Have used this company before, same good service.
Sharon Sale
05/06/2017
Excellent Service
uvraj Jadeja
24/05/2017
Great price, delivered as promised in perfect condition. Would not hesitate to use again.
Dave Curtis
18/05/2017
Very good service
bernard bessant
17/05/2017
Very good products, fast delivery, highly recommended. Thanks
KAMIL TAF
12/05/2017
First class keep it going
Chris Strickett
05/05/2017
Bona Mega Silk Matt 5l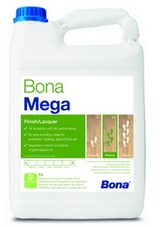 This product is also available in other versions:
Bona Mega Matt Lacquer 5l
Bona Mega Gloss Lacquer 5l
Bona Mega Extra Matt Lacquer 5l
Bona Mega Silk Matt 1l
Bona Mega Description
Bona Mega
Bona Mega is a water based, clear, polyurethane lacquer for the surface treatment of wood floors for particular use in areas subject to heavy wear.
Bona Mega is perfectly suited for heavy domestic user and light commercial application. The one-component formula uses oxygen from the air to achieve cross-linking and therefore has the performance of a 2-component finish without the need for any mixing. Bona Mega is available in three different sheen levels; Silk Matt, Matt, and Gloss.
Advantages of Bona Mega:
It is a convenient waterborne system
Has a solvent content of only 5% (approx).
Very hard-wearing, resists scuff marks and scratching
Suitable for domestic high traffic areas
Very easy to use - no mixing is required
Excellent chemical resistance
This product is widely used and respected among professional wood floor fitters and refinishers
Excellent flow and levelling
Eco Friendly - Bona Mega is partly made of renewable resources. Bona's specialised manufacturing process has saved approx. eight million kilos of CO2 emissions.
How to apply Bona Mega
Before application of the surface must be treated with a water based primer such as Bona Prime
Ensure the temperature of the room is more than 13°C
The optimal conditions for application are between 18°C and 25°C and 40-60% relative air humidity
Bona Mega is ready to use, do not dilute
Ensure that the floor is well sanded and free from dirt, dust, wax and any other contaminents
Allow the Bona Mega to acclimatise to the room temperature before application
Insert the filter and shake the container thoroughly
Apply the Bona Mega with a roller or brush. Rollers are available to buy here
If overcoating previously varnished floors, Bona Mega can be applied with a 2% addition of Bona Crosslinker. CAUTION: Intercoat adhesion should always be tested before use
The lacquer will be ready for re-coating or sanding after 2.5 - 3 hours.
Maintenance of Bona Mega treated surfaces
To maintain a floor treated with Bona Mega we recommend regular care using a
Bona Spray Mop
or
Bona Wood Floor Cleaner Spray
applied with a microfibre cleaning pad. Using these products will ensure lasting durability and will prolong the endurance of your clear lacquer coated floor.
Documentation
Bona Mega customer reviews at floorsalesonline.com
Rating:
4.9

stars, based on

43

reviews
Bona Mega Matt 5l
bernard bessant, 20/06/2017
Bona Mega Matt 5l
bernard bessant, 17/05/2017
Bona Mega Silk Matt 5l
, 05/05/2017
Bona Mega Silk Matt 5l
Christiane Walder, 18/02/2017
Bona Mega Silk Matt 5l
karen durkin, 02/02/2017
Bona Mega Silk Matt 5l
Scott Miller, 26/11/2016
Bona Mega Matt 5l
Damien Naughton, 25/11/2016

Bona Mega Silk Matt 5l
Martin Harrison, 18/11/2016
Bona Mega Matt 5l
Garry Fryar, 18/10/2016
Bona Mega Matt 5l
Mike Wood, 28/09/2016
Bona Mega Gloss 5l
Irene Stephenson, 14/09/2016
Bona Mega Silk Matt 5l
Martyn Lintern, 09/08/2016
Bona Mega Silk Matt 5l
Janet Carter, 08/08/2016
Bona Mega Silk Matt 5l
Nicholas Bartle, 03/08/2016
Bona Mega Silk Matt 5l
Niel Pearson , 06/07/2016
Bona Mega Matt 5l
Keith Coxshall, 28/06/2016
Bona Mega Extra Matt 5l
William Medland, 13/03/2016
Bona Mega Silk Matt 5l
Carrie Stokes, 23/02/2016
Bona Mega Silk Matt 1l
Rhiannon Rees, 22/01/2016
Bona Mega Extra Matt 5l
DENISE MOORE, 04/12/2015
Bona Mega Silk Matt 5l
Phil Harris, 03/12/2015

Bona Mega Gloss 5l
Paul Davies, 23/10/2015
Bona Mega Silk Matt 5l
David Illman, 09/10/2015
Bona Mega Silk Matt 1l
Andrew Barker, 18/09/2015
Bona Mega Matt 5l
Garry Fryar, 18/08/2015
Bona Mega Silk Matt 5l
Peter bowman, 30/07/2015
Bona Mega Extra Matt 5l
Christopher cronin, 21/07/2015
Bona Mega Silk Matt 5l
JOHN STAPLEY, 17/07/2015
Bona Mega Silk Matt 5l
martyn lintern, 02/07/2015
Bona Mega Extra Matt 5l
Ana Fernandes, 10/05/2015
Bona Mega Silk Matt 5l
Tim Palmer, 11/03/2015
Bona Mega Matt 5l
billy bennett, 27/02/2015
Bona Mega Matt 5l
Paul Carlier, 27/02/2015
Bona Mega Silk Matt 5l
Stephen Lloyd, 25/02/2015
Bona Mega Extra Matt 5l
Peter Grosvenor, 11/02/2015
Bona Mega Silk Matt 5l
Janice Avella, 09/12/2014
Bona Mega Gloss 5l
Tristan Cochrane, 04/11/2014
Bona Mega Silk Matt 5l
jerry wood, 24/09/2014
Bona Mega Silk Matt 5l
Erik Bos, 23/09/2014

Bona Mega Gloss 5l
Tristan Cochrane, 08/09/2014
Bona Mega Silk Matt 5l
Andreea Koenig, 28/07/2014
Bona Mega Silk Matt 5l
Sarah Ward, 17/05/2014
Bona Mega Matt 5l
Donna Aragi, 16/05/2014