FREE
Next working day delivery on orders over £49.95
*
Delivery Information
FREE delivery
on orders over £49.95 of
Osmo Polyx Oil 0.75L
details
Orders placed before 2pm today are estimated to be delivered on Friday 30th June
Order a Sample
Good and quick service
bernard bessant
20/06/2017
Fantastic service as usual.Thankyou!
Clive Dicker
13/06/2017
Super service easy and painless
Peter Gammage
06/06/2017
Excellent service, clear website and very rapid delivery.
John Elliott
06/06/2017
Excellent service, when I asked for an eta they kept me informed. Have used this company before, same good service.
Sharon Sale
05/06/2017
Excellent Service
uvraj Jadeja
24/05/2017
Great price, delivered as promised in perfect condition. Would not hesitate to use again.
Dave Curtis
18/05/2017
Very good service
bernard bessant
17/05/2017
Very good products, fast delivery, highly recommended. Thanks
KAMIL TAF
12/05/2017
First class keep it going
Chris Strickett
05/05/2017
Osmo Polyx Oil 0.75L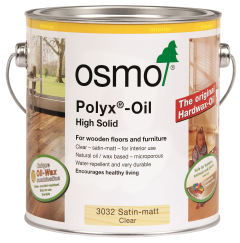 This product is also available in other sizes:
Osmo Polyx Oil 2.5L
Osmo Polyx Oil Clear Satin 10L
Osmo Polyx Oil 5ml Sample
Osmo Polyx Oil Description
Osmo Polyx Oil is an excellent finish for all types of wooden floor and will protect and preserve the wood for years to come. The Osmo Polyx Oil formula retains the natural character of the wood while it increases durability leaving you with an extremely hardwearing floor that is water and dirt resistant.

Easily applied, thinly and evenly along the wood grain.

We recommend Osmo Wood Protector as a base coat for extra moisture protection in Bathrooms and Kitchens.

Supplied in a 0.75 litre tin

How to apply Osmo Polyx Oil


Before application the wood surface must be completely clean and dry, with a moisture content of no more than 20 percent.


Old paint and lacquers must be carefully and completely removed


Sand the wood surface carefully first with a coarse-grade sandpaper, then working through the grades gradually to finish on 120 grit paper for wood flooring, and a finer grade for furniture.
Remore the sanding dust with a vacuum cleaner.


If filling is necessary, do so before the final sanding process. We recommend Lecol 7500 Filler.


Stir the Polyx Oil thoroughly. Do not thin the mixture


Ensure that the room is well ventilated


Apply evenly and thinly along the grain of the wood using either an Osmo Roller Head, an Osmo Floor Brush or an Osmo Hand Brush.


Allow 8-10 hours to dry


Apply a second coat, also thinly


Note: Osmo Polyx Oil accentuates the natural colour tone and the grain of the wood


Note: Cork flooring is extremely porous and should only be applied very thinly. The drying time for cork flooring is a minimum of 24 hours.


Note: When applying to furniture, apply only one thin coat using a cloth.


Osmo Polyx Oil customer reviews at floorsalesonline.com
Rating:
4.9

stars, based on

49

reviews
Osmo Polyx Oil 2.5L
Roy Parker, 03/05/2017
Osmo Polyx Oil 2.5L
Richard Webb, 11/04/2017
Osmo Polyx Oil 2.5L
Gary Metcalfe, 04/04/2017
Osmo Polyx Oil 2.5L
Alexander Robinson, 29/03/2017

Osmo Polyx Oil 2.5L
Anthony Hinchliffe, 12/01/2017
Osmo Polyx Oil 2.5L
Caroline Ambrose, 10/11/2016
Osmo Polyx Oil 2.5L
Garry Utley, 13/10/2016

Osmo Polyx Oil 0.75L
WILLIAM RUSSELL, 04/09/2016
Osmo Polyx Oil 2.5L
Jinhao Zhang, 17/08/2016
Osmo Polyx Oil 2.5L
Dominic Hutchings , 08/08/2016
Osmo Polyx Oil 10L
Philippa Sangha, 26/05/2016
Osmo Polyx Oil 2.5L
Valerie Price, 28/04/2016
Osmo Polyx Oil 2.5L
Julian Redman, 22/01/2016
Osmo Polyx Oil 2.5L
philip carr, 12/01/2016

Osmo Polyx Oil 2.5L
James G, 08/01/2016
Osmo Polyx Oil 2.5L
Simon Heal, 18/12/2015
Osmo Polyx Oil 2.5L
Sophie Widegren, 13/11/2015
Osmo Polyx Oil 2.5L
Gavin Oliver, 24/10/2015
Osmo Polyx Oil 2.5L
John Syred, 23/10/2015
Osmo Polyx Oil 2.5L
Virginia Long, 23/10/2015
Osmo Polyx Oil 2.5L
David Jenkinson, 18/09/2015
Osmo Polyx Oil 2.5L
Julian Bond, 25/08/2015
Osmo Polyx Oil 2.5L
Vladimir Brehhunov, 25/08/2015
Osmo Polyx Oil 2.5L
Caroline Sanders, 05/08/2015
Osmo Polyx Oil 0.75L
Alistair Mochar, 23/07/2015
Osmo Polyx Oil 2.5L
Alan Archer, 26/06/2015
Osmo Polyx Oil 2.5L
John Fitzgerald, 24/06/2015
Osmo Polyx Oil 2.5L
Christine Schofield, 30/04/2015
Osmo Polyx Oil 2.5L
David Andrews, 30/04/2015
Osmo Polyx Oil 2.5L
Patricia Ann Pringle, 15/04/2015
Osmo Polyx Oil 2.5L
Vic Carpenter, 13/04/2015
Osmo Polyx Oil 2.5L
robert Stopford, 29/03/2015
Osmo Polyx Oil 2.5L
peter moore, 05/03/2015
Osmo Polyx Oil 2.5L
J MCKINLAY, 11/02/2015
Osmo Polyx Oil 0.75L
elizabeth grogan, 06/02/2015
Osmo Polyx Oil 2.5L
Christine Crick, 03/02/2015
Osmo Polyx Oil 2.5L
Jayne Argyle, 29/01/2015

Osmo Polyx Oil 2.5L
Emma Porcas, 01/12/2014
Osmo Polyx Oil 2.5L
Jane Stillwell, 11/11/2014
Osmo Polyx Oil 2.5L
Jeremy Milln, 14/10/2014
Osmo Polyx Oil 2.5L
William Collins, 10/10/2014
Osmo Polyx Oil 2.5L
Mrs Rhian Jones, 23/09/2014
Osmo Polyx Oil 2.5L
Graham Walker, 11/09/2014
Osmo Polyx Oil 2.5L
Graham Walker, 07/08/2014
Osmo Polyx Oil 2.5L
neil atkins, 29/07/2014
Osmo Polyx Oil 2.5L
Louise Swann, 17/05/2014
Osmo Polyx Oil 2.5L
Michael Sturgeon, 12/05/2014
Osmo Polyx Oil 2.5L
Charles Wills, 26/04/2014
Osmo Polyx Oil 2.5L
DAVID HANMORE, 26/04/2014